A Brief History
Spryco started from offices in the City of London in 1946.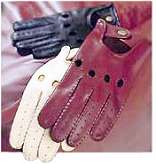 Its primary business was as a glove agent.
It was the need for a press stud to keep gloves comfortable and tight on the hand that caused the founder, Ivor Spry, to establish a supply of these fasteners to UK glove manufacturers from France.
In the early 1970's Spryco became an agent for A Raymond, a company manufacturing specialist plastic and metal fasteners of all types and sizes from factories in France and Germany. Major car manufacturers then based in the UK, e.g. Ford, Vauxhall and Jaguar, used these fasteners. Spryco also represented Gebr. Maissenbacher, manufacturers of clasps and hinges for the Presentation Box and Jewellery Display Industries.
Other agencies were introduced to include manufacturers of assemblies for Ford UK and a supplier of high quality stainless steel for customers such as Wilkinson Sword.
As suppliers to such diverse industries, from automotive and its sub-suppliers to gift packaging, we are able to provide an excellent supply service for our customers. We have competent technical staff available to discuss your requirements.